Meet Ghana Visitors Guide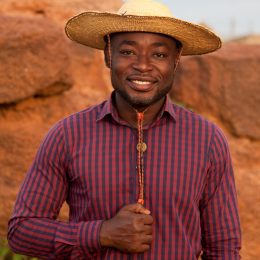 Michael Dankwa
Founder/Tour Guide
Michael Dankwa is the founder of Grassroot Tours Ghana. He was born and raised in the grassland savanna of Mole National Park, where his father worked as a mechanic for 40 years.
As a teenager with a love for nature and a keen interest in tourism, Michael guided tours to Larabanga, Mognori Eco-village and Wechiau hippo sanctuary. His pride in his culture and joy in sharing it with visitors showed through; in response to numerous requests from travelers for Michael to act as their tour guide, he completed formal studies in Tourism and established Grassroot Tours.
Michael is fluent in English as well as eight local languages. He knows Ghana like the back of his hand. Having grown up in Mole and also travelled in Europe, he has spent his entire life in constant interaction with people from all over the world. He has an excellent understanding of cultural differences and visitors' needs for comfort, sanitation and privacy.
Michael also worked for five years as a program leader for Rustic Pathways, an American company that specializes in international travel for high school students.
Michael is currently the lead guide for HEFY(Humanitarian experience for youth) an American travel company. He is responsible for guiding, transportation, flights, and general sightseeing for over 280 people in Ghana. Thanks to his brilliant organization abilities.
As your tour guide, Michael provides outstanding organization and plenty of information to help you make the most of your experience while travelling like a local.
[/vc_column_text][/vc_column][/vc_row]